Foundation for Food & Agriculture Research (FFAR)
In October 2020, HeDWIC started a 5-year project supported by the Foundation for Food & Agriculture Research (FFAR) under award number – Grant ID: DFs-19-0000000013. The project, entitled "Harnessing translational research across a global wheat improvement network for climate resilience."
Through developing and validating technologies in a systematic way, the project is filling the gap between promising research and applied crop improvement to deliver climate resilient wheat to farmers as quickly as possible (Fig 7). Read more at Reynolds et al., 2021, and 2021 and 2022 Press Releases.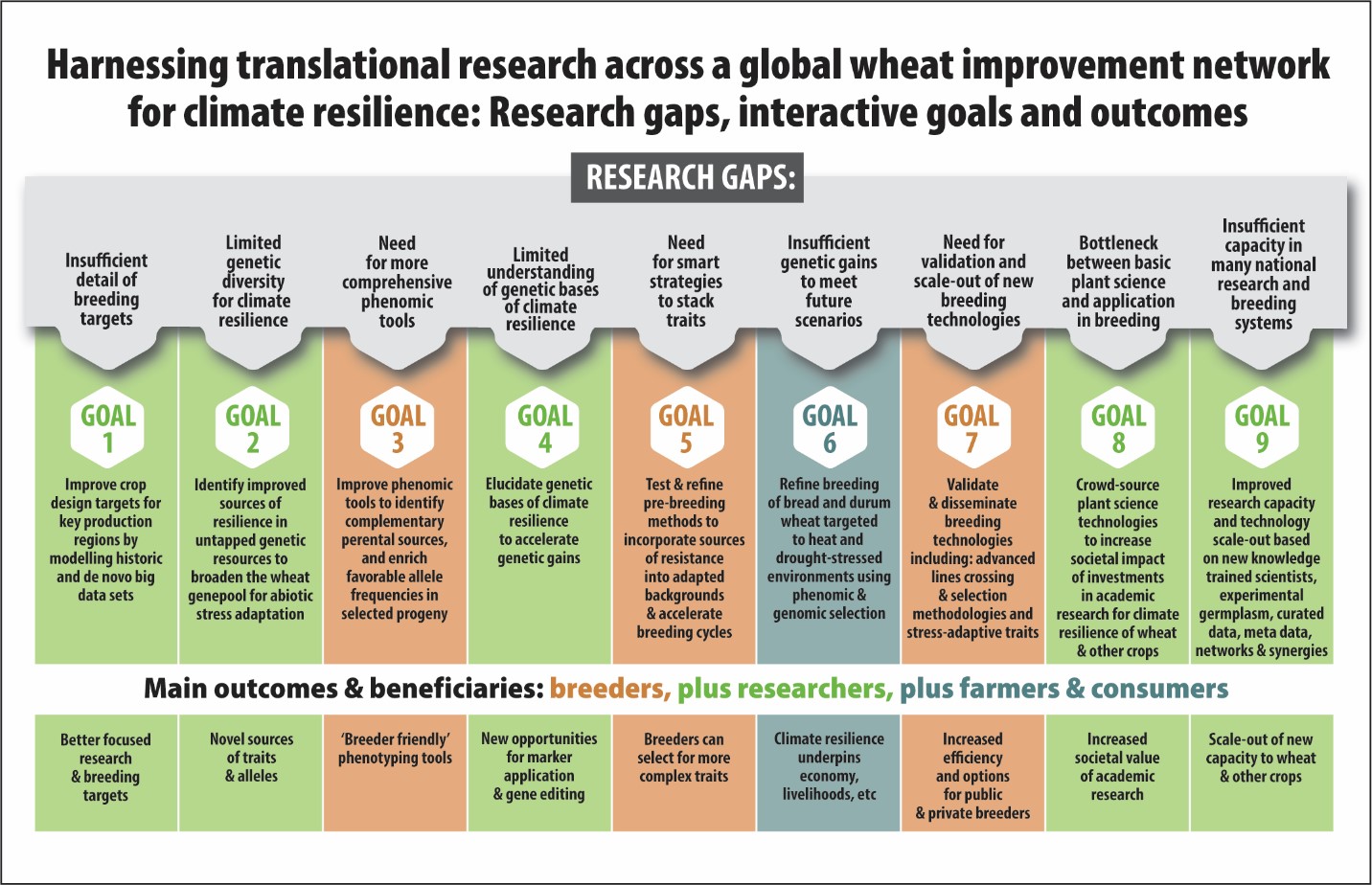 Figure 7: Harnessing research across a global wheat improvement network for climate resilience: research gaps, interactive goals, and outcomes (Reynolds et al., 2021, shared under license CC-BY).
Mini-Projects
Several mini-projects are being undertaken within the framework on the HeDWIC FFAR project (see table, below). Read more about these here.
Table: Mini-Project Titles and Lead PIs/Institutions
Mini-Project Title

Lead PI / Institution
Co-PI(s) / Institutions
CIMMYT contact(s) or Co-PI(s)*

Discovering thermally stable wheat through exploration of leaf respiration in combination with photosystem II capacity and heat tolerance
Identifying spike hormone traits for improved heat and drought tolerance in wheat
Exploring the potential of chlorophyll fluorescence for the early detection of drought and heat stress in wheat (FluoSense4Wheat)

Onno Muller / Forschungszentrum Jülich, Institute of Bio- and Geosciences (IBG-2)
Bastian Siegmann / Forschungszentrum Jülich, Institute of Bio- and Geosciences (IBG-2)
Uwe Rascher / Forschungszentrum Jülich, Institute of Bio- and Geosciences (IBG-2)
Francisco Pinto* / CIMMYT

Exploring novel approaches for determining genetic variation in heat-induced inhibition of growth in wheat
Targeted selection for thermotolerant isoforms of starch synthase
Physiological basis of amelioration of heat stress through nitrogen management in wheat
Can reproductive development be protected from heat stress by the trehalose 6-phosphate pathway?
Investigating tolerance of heat resilient wheat germplasm to drought
Multiseriate Cortical Sclerenchyma: A Novel Root Trait for Wheat Drought Stress Tolerance
Novel wheat architecture alleles to optimize biomass under drought
* For better facilitation and integration into the broader HeDWIC project, a CIMMYT researcher is associated with each mini-project. Those who are serving as Co-PIs (i.e., helped develop the project, vs. a contact), are indicated with *.
Scientific Advisory Body (SAB)
HeDWIC is grateful for the members of the Scientific Advisory Body (SAB) who provide input, feedback and support to the FFAR-funded project. The SAB is currently comprised of the following members:



Publication

Reynolds, M.P., J.M. Lewis, K. Ammar, B.R. Basnet, L. Crespo-Herrera, et al. 2021. Harnessing translational research in wheat for climate resilience. Journal of Experimental Botany.




Press release

CIMMYT researchers and partners are applying genomics, remote sensing and big data analysis to fortify the crop against climate-related stresses.




Wheat Improvement

This open access textbook presents a comprehensive overview about wheat improvement latest trends, technologies and techniques.